VIDEO TRANSFERS - More Info
<Back


Media type.
(for DVD option)

We use quality branded 4.7GB DVD-R discs,
These play on almost all modern DVD players and computer DVD drives, if you would like the DVD+R type, just let us know.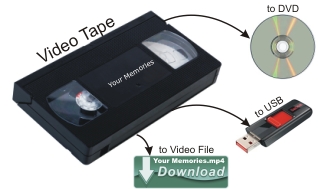 ---

Label Title. (for DVD option)


As default, we print the title from the video cassette label on to the disc, this can be up to 4 lines of text.
We print black text with
small universal graphics
onto white lables using a standard font, let us know if you would like something different.

---

DVD Case.
(for DVD option)

We use DVD cases to protect your disc, these are transparent and the disc label can be seen without opening.
---

Care for your Discs
(for DVD option)
As you know, DVD's are easily scratched and if not looked after the may not play, All our disc are checked before sending and are sent in perfect condition, if you get finger prints on the playable surface, just wipe off with a soft micro-fibre cloth.
Make a back up copy for peace of mind.

(see below)

---

Back up your Discs

(for DVD option)



It's a good idea to make a backup copy of your DVD's,

this can be done easily on any computer with a DVD writer, just make a copy

and store somewhere safe.

Why not burn some copies for your friends and family?, this creates additional backup copies that you can borrow and re-copy.

Your DVD can also be stored on your computer or external HDD, instead of burning the video data to a DVD it can be copied to your hard drive and then copied to as many DVD's as you like.
There is free software on the web to do this.

Ashampoo is free DVD/CD copying softare (google - Ashampoo)

---
Video Files (.mp4)

Video files that we supply on USB drives and by download link are standard .mp4 video files, these can easily be shared and duplicated, simply, copy and paste. You could also upload your files to Youtube, Facebook etc.
<Back